Kathryn Paul • Marriage Celebrant • Sydney
If you believe in UPCYCLED love — second chance weddings, updated traditions and eco-friendly ceremonies — you're in the right place
Congratulations — you two are getting married!
If you're a couple who have created a new, improved love story from the broken pieces of your past relationships, you understand how joyous and magical second chances can be.
I'm here to help you celebrate your wedding day in a way that honours your past while looking towards the future, through original, updated wedding traditions which reflect your personality and beliefs.
Here's how to be wed without all the unneccesary stuff
Let's make your wedding day about creating memories, emotions and shared experiences, rather than accumulating extra clutter you don't need.
Let's share the love you have for each other with the earth and its inhabitants by-
making considered choices
adding eco-friendly touches
creating an easy, relaxed wedding ceremony that aligns with your dreams
Supporting you and saving the planet
If you'd like a modern celebrant based in Sydney, who will help you feel connected, reassured and empowered, all while staying out of your photos, please get in touch to check your date.
Every wedding ceremony I perform helps fund ocean conservation, whale research, citizen science, coastal surveys and beach/ocean cleanups through a 5% donation to the Living Ocean charity.
Ceremony Packages
Micro Wedding / Elopement
A pre-written 5-minute ceremony covering all the basics and a bit extra
Simple Pleasures
A simple, elegant 15-20-minute ceremony with some personalisation
Premium Bespoke
A one-of-a-kind wedding ceremony written especially for you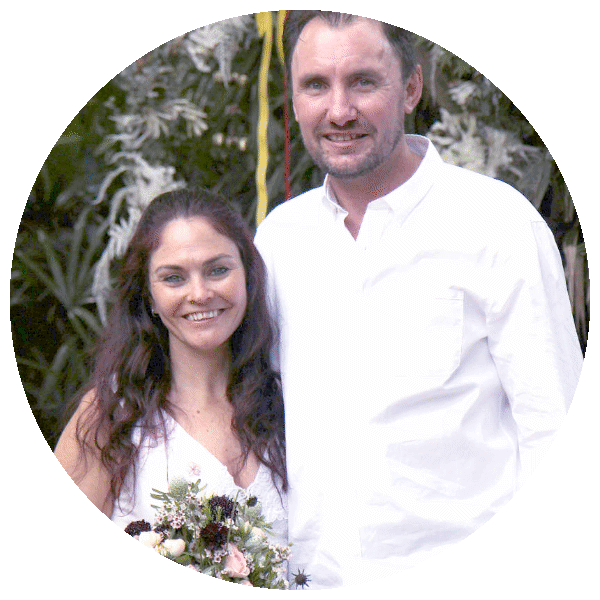 "Kathryn was amazing from the very start of our journey, she put our minds at rest throughout the whole process and on the day she helped make it as perfect as we'd imagined. Kathryn's words in the ceremony were beautiful and funny, I would recommend her to everyone! Thank you from the bottom of our hearts!"
— Jon & Michelle, Married at West Ryde, Sydney, NSW.
Kathryn Paul • Sydney Celebrant • She/Her
I have grey hair, tattoos and an obsession with running and silver rings. I am the proud owner of degrees in Stage Management and Creative Writing.
When I'm not marrying people, I'm a freelance copywriter, and stage-manage the odd theatre show.
If you're dreaming of a ceremony that is simple, seamless and stress-free, I'm here to take care of all your ceremony details, so all you have to do is relax and enjoy the day.
I wholeheartedly support all lesbian, gay, bisexual, transgender, queer, neuro-diverse, indigenous, multi-cultural and differently-abled people's rights, their marriages, their pursuit of happiness and their importance in the world.
"I felt an instant connection with Kathryn's warm personality and caring nature. She made me feel so comfortable and relaxed at our first meeting, from then on I knew I had made the right decision in choosing her. She included all my special requests into our surprise ceremony and worked with us beautifully to ensure my vision came true. I'm so happy I chose you to marry Alec and I – you made our wedding day just perfect!!"
— Alec & Allana, Married at Forestville, Sydney, NSW.
Feeling Overwhelmed?
Download a FREE 43-page Wedding Planner with fillable pages, checklists and organisation tools, and put an end to worrying.