Kathryn Paul • Marriage Celebrant • Central Coast, Hunter & Sydney
Making small weddings feel significant & large weddings feel intimate
You're not your average couple
And you don't fit into the traditional bride + groom box
Maybe you're no longer one of the party kids, or you feel like an old soul
Maybe you've already got a house, children and the dog
Or maybe you've left your family behind in another county
Whatever it is that makes you different, one thing remains constant…
You want an aligned-with-the-times, love-filled, modern evolution of the wedding experience.
You're here because, whether simple or elaborate, short or long, you're searching for a wedding ceremony that is inclusive, authentic and a true celebration of this significant moment in your lives.
A ceremony that feels truly your own
Wonderful, meaningful ceremonies that express your highest values, recognise the profound commitment you're making, and enhance the sheer joy of the occasion.
Micro Wedding / Elopement
A pre-written 5-minute ceremony covering all the basics and a bit extra
Simple Pleasures
A simple, elegant 15-20-minute ceremony with personalisation
Premium Bespoke
A one-of-a-kind wedding ceremony written especially for you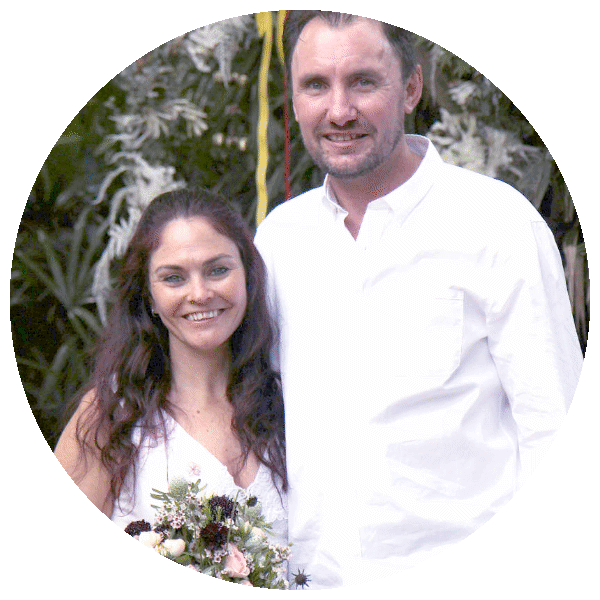 "Kathryn was amazing from the very start of our journey, she put our minds at rest throughout the whole process and on the day she helped make it as perfect as we'd imagined. Kathryn's words in the ceremony were beautiful and funny, I would recommend her to everyone! Thank you from the bottom of our hearts!"
— Jon & Michelle, Married at West Ryde, Sydney, NSW.
Kathryn Paul • Central Coast, Hunter & Sydney Celebrant • She/Her
More of a heart starter, less of a party starter
My superpower is my remarkable ability to make you and your partner feel comfortable and taken care of from the first time we meet until you're well and truly wed.
My years of experience, established systems and attention to detail mean you can put down your to-do list and take a deep breath.
I'll honour you as individuals and give voice to the connection between your human hearts.
My celebrant style is:
Calm, unhurried and relaxed
Professional, responsible and respectful
Elegant, poetic and grown-up
And makes my couples feel secure, seen and heard
—
I wholeheartedly support all lesbian, gay, bisexual, transgender, queer, neuro-diverse, indigenous, multi-cultural and differently-abled people's rights, their marriages, their pursuit of happiness and their importance in the world.
Get married in 3 simple steps
1. CHAT
Fill out the contact form or phone me to check your date. After a quick chat to see if we're a match, we lodge your Notice of Intended Marriage
2. co-create
With your vision in mind, we craft your perfect wedding ceremony including non-traditional elements like gathering rituals, acknowledgement of Country and tributes to your loved ones
3. celebrate
We kick off your wedding celebration with a ceremony you'll love and your guests will enjoy. I'll play your music through my PA, print your vow cards, and make sure you feel supported and at ease
Feeling Overwhelmed?
Download a FREE 43-page Wedding Planner with fillable pages, checklists and organisation tools, and put an end to worrying.
"I felt an instant connection with Kathryn's warm personality and caring nature. She made me feel so comfortable and relaxed at our first meeting, from then on I knew I had made the right decision in choosing her. She included all my special requests into our surprise ceremony and worked with us beautifully to ensure my vision came true. I'm so happy I chose you to marry Alec and I – you made our wedding day just perfect!!"
— Alec & Allana, Married at Forestville, Sydney, NSW.