Kathryn Paul • Marriage Celebrant • Central Coast, Hunter & Sydney
Making small weddings feel significant & large weddings feel intimate
You can't wait to marry your best friend
& celebrate being equal partners in love and life
Here you will feel taken care of, from our first meeting to the delivery of your marriage certificate, with extra touches like regular email check-ins, script collaboration, insider tips, printed vow cards, and seamless music playback.
Here your ceremony will be filled with unique moments, with options like gathering rituals, acknowledgement of country, tributes to absent loved ones, and recognition of a relationship that has already begun.
Welcome to a place where you can feel at ease, knowing you're in expert hands
Just simple, straightforward, real weddings filled with beauty and joy.
I'm your modern Central Coast, Hunter & Sydney celebrant supporting you (& saving the planet)
If you're looking for a bright, enthusiastic celebrant to take care of all the logistics, create an original ceremony, and calmly guide you through your wedding day (no matter what crops up), all while staying out of your photos, please get in touch to check your date.
Every wedding ceremony I perform helps fund ocean conservation, whale research, citizen science, coastal surveys and beach/ocean cleanups through a 5% donation to the Living Ocean charity.
Micro Wedding / Elopement
A pre-written 5-minute ceremony covering all the basics and a bit extra
Simple Pleasures
A simple, elegant 15-20-minute ceremony with some personal touches
Premium Bespoke
A fully personalised ceremony any way you choose, written especially for you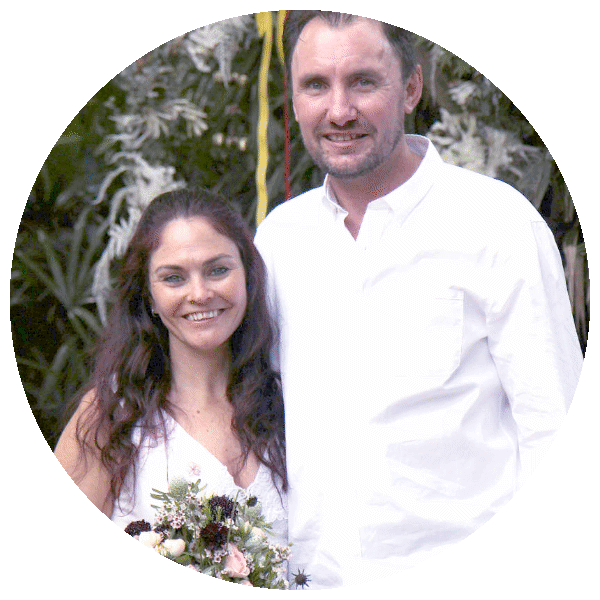 "Kathryn was amazing from the very start of our journey, she put our minds at rest throughout the whole process and on the day she helped make it as perfect as we'd imagined. Kathryn's words in the ceremony were beautiful and funny, I would recommend her to everyone! Thank you from the bottom of our hearts!"
— Jon & Michelle, Married at West Ryde, Sydney, NSW.
Kathryn Paul • Central Coast, Hunter & Sydney Celebrant • She/Her
I have grey hair, tattoos and an obsession with swimming and silver rings. I am the proud owner of degrees in Stage Management and Creative Writing, and a Certificate IV in Celebrancy.
When I'm not marrying people, I'm a freelance copywriter, and stage-manage the odd theatre show.
If you're dreaming of a ceremony that is simple, seamless and stress-free, I'm here to take care of all the details, so all you have to do is relax and enjoy the day.
—
I wholeheartedly support all lesbian, gay, bisexual, transgender, queer, neuro-diverse, indigenous, multi-cultural and differently-abled people's rights, their marriages, their pursuit of happiness and their importance in the world.
Get married in 3 simple steps
1. CHECK & CHAT
Fill out the contact form or phone me to check your date and arrange either an in-person meeting at Saratoga or a Zoom call to see if we're a good fit for each other. Pay the booking fee ($300) to secure your date.
2. LODGE & create
Lodge your Notice of Intended Marriage (NOIM) at least one month before the wedding. Choose the elements you want in your ceremony and co-create your script.
3. Relax & Celebrate
Enjoy peace of mind knowing you're in thoughtful, loving, safe hands, and allow your once-in-a-lifetime wedding ceremony to unfold beautifully and seamlessly.
Feeling Overwhelmed?
Download a FREE 43-page Wedding Planner with fillable pages, checklists and organisation tools, and put an end to worrying.
"I felt an instant connection with Kathryn's warm personality and caring nature. She made me feel so comfortable and relaxed at our first meeting, from then on I knew I had made the right decision in choosing her. She included all my special requests into our surprise ceremony and worked with us beautifully to ensure my vision came true. I'm so happy I chose you to marry Alec and I – you made our wedding day just perfect!!"
— Alec & Allana, Married at Forestville, Sydney, NSW.