12 Great Reasons to Have a Week Day Wedding
If you say you're going to host a wedding ceremony and reception, everyone assumes it will be on the weekend — typically on a Saturday or a Sunday. But there are many advantages to having your wedding during the week. Some of the reasons are obvious, and some are not. Here are 12 great reasons to book a weekday wedding.
Better Prices
One of the best reasons to book your wedding during the week, is that you will save a great deal of money. Most venues have different prices for weekdays, as do a lot of wedding and event suppliers. Significant budget savings can be made by planning your wedding on a Monday to Friday.
Availability of Venue
Because popular venues have so many couples wanting to book on a Saturday, they are unable to accommodate every one, and usually book out years in advance. Unless you are willing to wait an extended period of time, you might miss out on your preferred venue. By choosing a less sought after date during the week, you are more likely to secure the venue your heart desires.
Less Crowded for Ceremony & Photos
If you are having your ceremony in a public place, you will find that during the week there are less people in the space. This means your ceremony will not be interrupted by passer-byers or random spectators. If you are wanting to have your photos taken at a popular landmark or significant spot in your city there will be less crowding if it is not the weekend.
Less Competing Events
Sometimes it is difficult to co-ordinate a date with all of your family and friends that doesn't already have major events booked on it. Other weddings, birthdays, sporting events, social events and commitments fill up people's weekends quickly. By choosing a day during the week to have your wedding, you stand a better chance of finding a time that isn't booked for anything else. Just make sure you give everyone a lot of notice so they can arrange time off work.
Get Your Pick of the Best Suppliers – photographer, MC, celebrant
If you decide to have your wedding during the week you will have your pick of the best suppliers. Popular wedding vendors include photographers, celebrants, and MCs, and like venues, book out sometimes years in advance. Suppliers' schedule for weekdays is less crowded and means you may get work with your dream team after all.
Smaller Guest List
Not everyone will be able to attend your wedding if it is during the week and although this may not be ideal, you will probably end up with a smaller guest list. This means you might be able to hire a smaller venue and not have to pay as much for drinks, meals and other amenities
Evening Ceremony
Having your weekday ceremony later on in the afternoon or evening brings together the best of both worlds. You can still take advantage of the availability and cost benefits of a weekday wedding but more guests will be able to attend as it will be after work.
Honour a Significant Date
If you have a date that is significant to you and your partner, you can choose to be married on this date even if it is not on a weekend.
Unique & Chic
Everyone expects a couple to be married on the weekend so by announcing that your wedding will be during the week you are creating an event that is both chic and unique. You are saying that you are willing to update traditions and create new ways of doing things.
More Time with Loved Ones
By marrying earlier in the week you are able to spend more quality time with friends and family who may have travelled long distances to be with you for the wedding celebrations. For example, if you were to marry on a Friday, you would have the entire weekend to spend with people you don't regularly see.
Flights & Accommodation
You may discover flights and accommodation are less expensive during the week than on the weekends. This is a bonus both for your guests travelling to your ceremony, as well as you as a couple going away on your honeymoon.
A Valid Excuse to Play Hookey
Everyone loves time off work and being invited to a wedding is a great excuse to play hooky. Sneaking off for a unscheduled long weekend injects a sense of fun and specialness into your wedding event.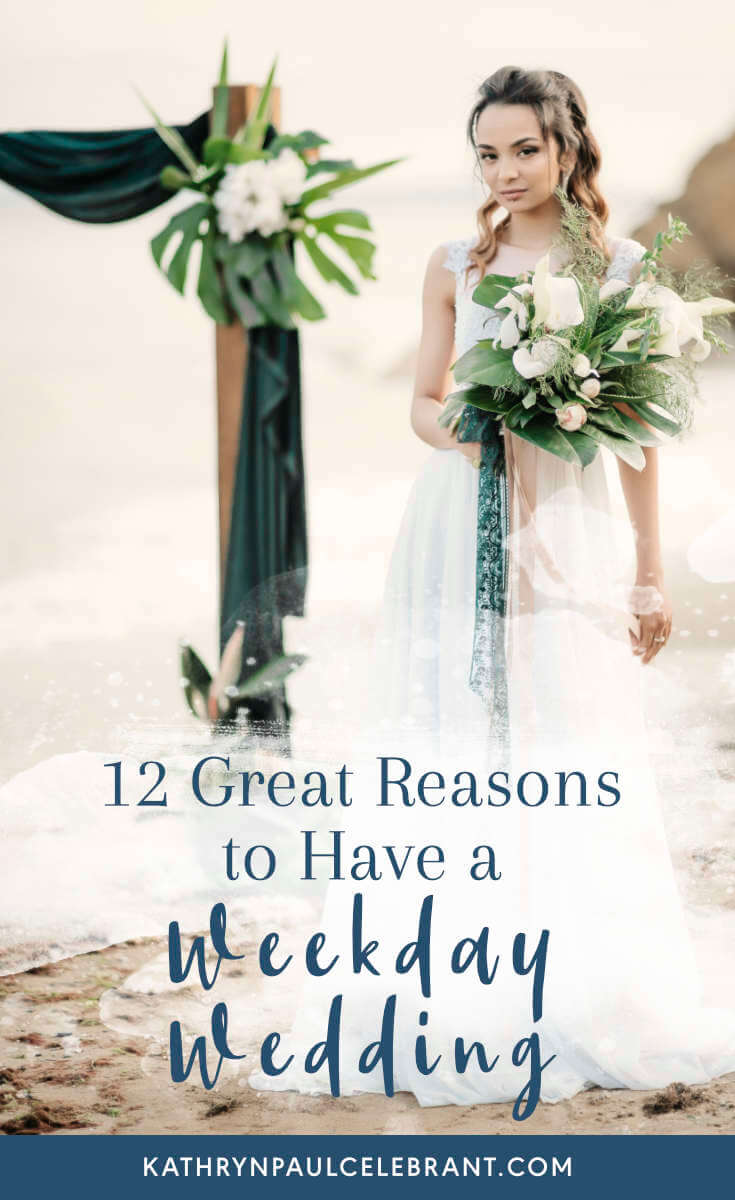 Would you consider a week day wedding?
Have you ever been to one?