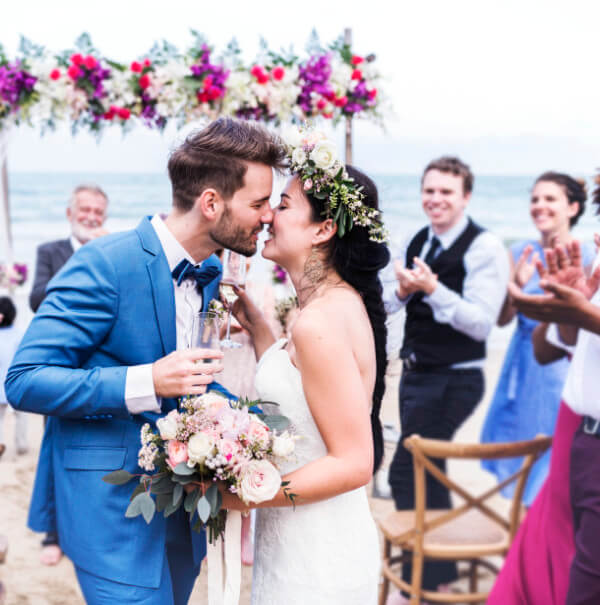 If you spend your weekends relaxing in your swimsuit, boardies or rashie, and your soul is a water baby, then the beach is the perfect place to get married. Saying "I do" near the ocean can be a beautiful romantic experience for you and your guests. Unfortunately though, beach weddings also have the potential to be a terrible disaster. Here are 10 timely reminders and tips to make sure your relaxed seaside wedding day is everything you dreamed about.
(1) Beach Wedding Location
Decide exactly where you'll have your beach wedding — will it be a resort, a private beach or public beach? Will you be right on the sand or on a grassed area overlooking the ocean? Check with your local council as most locations will require a permit. Don't forget to consider accessibility for elderly or less mobile guests, the closest available parking and the proximity of public restrooms.
(2) Time of Day
Most beaches don't have much shade so heat is an important consideration. The Australian coastline is also prone to be windy. To counteract these conditions consider getting married early in the morning, or an hour before sunset. Don't forget to check the tide times — the last thing you want are waves lapping at your feet. Tides are noisier coming in, so pick a time when the tide is going out.
(3) Beach Wedding Attire
The beach is not the place for a fully beaded custom made ball gown with a hoop skirt, or a dark three-piece suit. Your surfside wedding outfit should be made of lightweight fabric that will float beautifully without flying away in a gust of wind. A long veil may get in the way, and loose long hair could end up in your mouth when trying to say your vows. Linen suits look casual and elegant and pants and a shirt are a great choice too. Comfort should always be the primary consideration on your wedding day, especially when you're waterside.
Forgo the shoes and go barefoot or choose a barefoot sandal.
(4) Care for Your Waterside Guests
Make sure your wedding guests are comfortable and relaxed by providing a welcome table full of essential beach products. Choose an array of goodies including sunscreen, insect repellents, parasols, a basket to deposit shoes, cool drinks, and sunglasses. You can even supply paper fans made from your order of service.
(5) Seaside Rituals
Forgo the candle ritual which is likely to blow out on the beach, and choose something more aligned with your location. A sand ritual is an obvious choice but you could also consider hand-fasting, exchanging books, drinking a toast and other rituals that won't be affected by the wind.
(6) Beach Flowers
Pick flowers for your bouquets that will survive in the hot sun. When it comes to decorating the ceremony space (if you need to at all), think about rocks, shells, driftwood or other found objects from nature.
(7) Couple Support
A little known trick to assist with the logistics of a beach wedding is to bury a large piece of plywood, carpet or perspex just under the sand where the celebrant and couple will stand. This helps the wedding party feel more secure and supported, and will also save the day if a ring is dropped.
(8) Speak up
Beaches are noisy, with the sound of waves, wind, birds and the general public. Even with a small number of guests, you will need a portable PA system to amplify the spoken words during the ceremony. Your celebrant should have a battery-powered speaker and microphone. Make sure your entrance, signing and exit music is upbeat and loud so it can be heard clearly over the ambient noise. When you are saying your vows, project your voice a little more than usual.
(9) Keep it Short
The beach is not the place to have an hour-long wedding ceremony. Keep things short. You can expand the scope of the reception (in the cool airconditioning) to include some elements like the extra details of your love story, or a reading by a loved-one in order to keep the ceremony portion short and sweet.
(10) Back up plan
Whether it is a heatwave, torrential rain or a tropical cyclone, the weather in Australia in never predictable. Make sure you have an excellent back up plan in place should the beach become too hostile for a wedding ceremony. There is nothing worse than suffering through one of the most intimate moments of your life with sand flying in your mouth and saltwater stinging your eyes. Be prepared to move indoors where it will be more comfortable for everyone.
♥
Although a beach wedding brings with it a whole range of extra challenges, marrying your forever person next to the beauty of nature can be magical. If you have planned everything carefully, you will have a wedding day alongside the ocean you'll remember forever.
Have you been to a fabulous beach wedding?
What made it great?