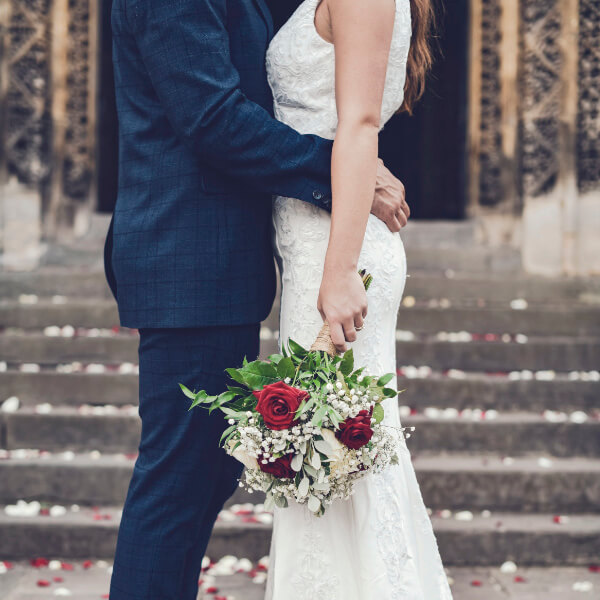 When it comes to creating an environmentally friendly, ethical wedding ceremony and reception, the good news is it doesn't have to be all or nothing. No one will judge you for not nailing 100% of the possibilities.
As with most things in life, it is your effort and intention that counts. Small actions add up quickly and even just being mindful about a couple of sustainable options will make a difference. Don't try to do everything — just choose one or two points that leap out at you.
Eco-Friendly Location
One of the best ways to care for the environment is to reduce the amount of travel we do. Pick a venue close to home to reduce the distance you and your guests will need to travel.
If possible, have the ceremony and reception in the same location to further reduce travel. There are many wonderful venues with stunning outdoor areas suitable for the ceremony and an inside area for food, drink and entertainment.
It is also a great green idea to put on a shuttle bus for guests, either transporting them from their accommodation to the ceremony and/or ferrying them between the ceremony and the reception venue.
Select an outdoor space for your ceremony that is full of natural beauty so you won't have to buy decorations. Look for places with trees, hedges, rustic walls, rolling hills or ocean views that don't need any embellishments.
Zero Waste Invitations
Digital invitations are now as simple as sending an email. Whether it is a 'save the date' message, wedding invitation, RSVP or thank you note, all this can now be done online.
If you still prefer to send physical invitations in the mail, choose recycled paper or plantable paper. Check out the range of cards infused with seeds that can be planted instead of thrown away.
Carefully consider the number of guests you wish to invite to your wedding. As well as keeping costs down, fewer guest reduce waste, water use, fuel consumption, food production, and packaging.
Compostable Catering
Formulate a leftover food plan to deal with any food that hasn't been eaten at the end of the night. Organise with your caterer to donate extra meals to homeless shelters, or make sure the waste material is composted. 
You can also make your wedding more eco-friendly by serving more vegetarian or vegan food. If you select local, sustainable, seasonal cuisine and alcohol, you will also be saving the planet and supporting local farmers.
It goes without saying that eliminating plastic is a wonderful way to support the environment. Make sure to use compostable or recyclable dinnerware for your drinks, canapes and meals.
Biodegradable Favours
Favours are small gifts left on the table for each guest. Instead of buying items that might get left behind or thrown away, think about favours created by mother nature. Potted plants and succulents, or edible favours are great options.
Green Styling & Decorations
Ditch the balloons, sparklers, floating lanterns, doves and butterflies and choose something more environmentally- and animal-friendly. Scour flea markets and thrift stores for forgotten treasures you can use as wedding decorations. Vintage furniture can look eclectic and welcoming in both your ceremony and reception spaces.
If there is a particular style you absolutely must have, don't forget to hire decorative items rather than buy them.
Biodegradable Confetti
Skip the rice. Use leaves & petals instead.
Carbon Neutral Gifts
Instead of having a gift registry, some couples are asking their guests to contribute to their favourite charity.
Even royal couples have followed this organic approach to wedding gifts. When Harry married Meghan their wedding invitation read, "The couple have asked that anyone who might wish to mark the occasion considers making a donation to charity, rather than sending a wedding gift."
You might also think about adding a donation link to your wedding website. Share with your guests why the charity is important to you as a couple, and why you're requesting that people who wish to give a gift, donate to the charity instead.
(I recommend Living Ocean, and donate 5% of all my ceremony fees to this wonderful organisation caring for our ocean, beaches and marine life)
Native Flowers
Choose flowers that are locally grown, organic and in season. Australian native flowers are stunning and add beauty and authenticity to a wedding.
You might also consider ditching real flowers and going artificial instead. These days, handmade silk flowers look realistic and have the added benefit of lasting as a keepsake.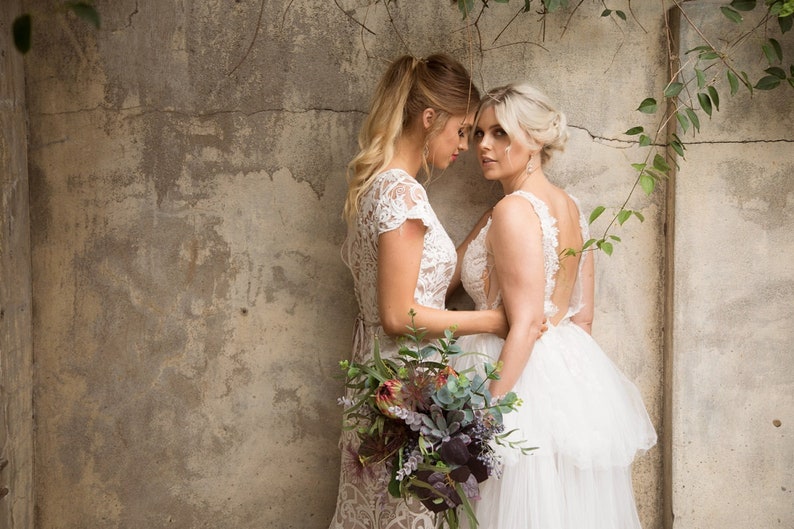 If you do opt for real flowers, think about sharing them with another couple getting married on the same day, or donating them to nursing homes or hospitals once the celebrations are over.
Upcycled Wedding Dress
A vintage, pre-loved or upcycled wedding dress is another way to make your wedding day more eco-friendly. Whether it is your grandmother's gown, or one a newlywed is selling, there are many alternatives to buying new. Websites like Only Dream Dresses cater for the Australian market and are the perfect place to buy, borrow or hire a stunning wedding dress.
If you can't find anything pre-loved that takes your fancy, try to select a dress made in Australia. Don't forget to think about how you might be able to wear the dress in the future. Is there a way you can shorten it, or dye it, and feel gorgeous it more than once?
Ethical Engagement & Wedding Rings
Two strong alternatives to buying diamonds are lab–created stones or estate jewellery. Moissanite is a popular choice for modern couples who prefer not to wear diamonds. Vintage jewellery can also be a beautiful statement that honours the past.
Low Carbon Footprint Honeymoon
One way to save the planet is to drive to your honeymoon destination rather than fly. With so many wonderful Australian places to visit, finding one nearby won't be difficult.
While you are on your honeymoon, try to fit in some eco-friendly activities. Visit animal sanctuaries, partake in a local beach cleanup, and hike in national parks with entrance fees that help support conservation work.
♥
Your wedding day can be the best day of your life and be kind to the planet through mindful planning and sustainable choices. You don't need to apply all these suggestions to make a difference, just one small adjustment will help the earth and all its inhabitants.