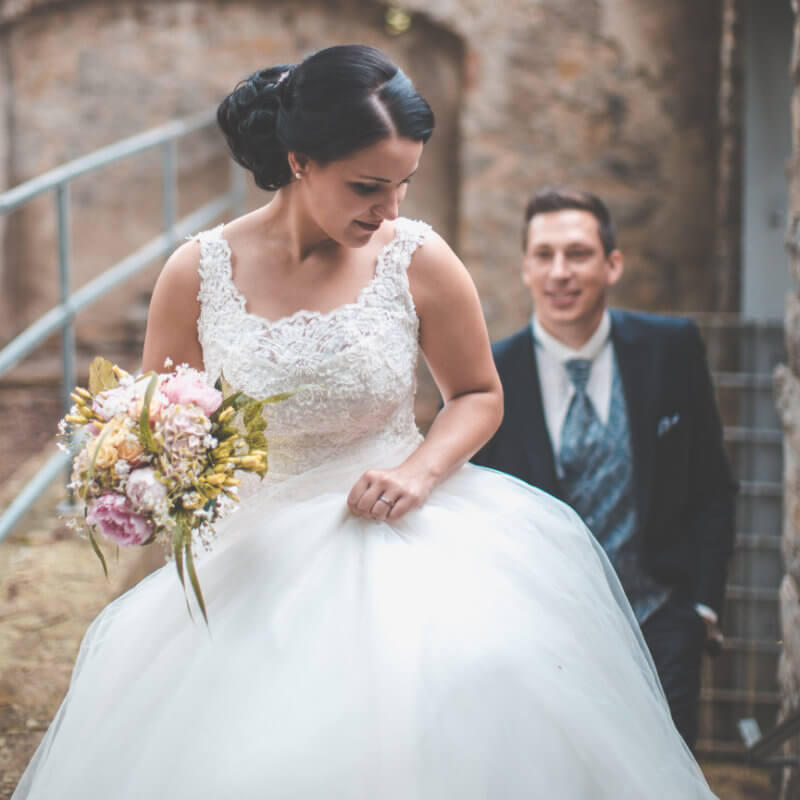 For some people, the idea of being the centre of attention on their wedding day is not something they look forward to. A lot of people don't want to have others looking at them, and it is no surprise that public speaking is the #1 fear in the minds of most of the population.
It is possible that the thought of having to stand in front of a crowd of wedding guests and say vows is more frightening than exciting.
But it is easy to banish your fears and calm your nerves on your wedding day by using the following techniques.
Listen to calming music while you get ready.
Drink warm liquids rather than cold ones to keep your throat relaxed.
Make sure your dress/suit/shoes are comfortable and not so tight as to cut off circulation and your ability to breathe.
Keep challenging/dramatic family members busy somewhere far away from you.
Assign someone from the wedding party to be your contact for any last minute questions or problems. Allow them to make decisions on your behalf.
Reduce the length of the ceremony so you don't have to be at the front for a long time.
Reduce the length of your vows. You are only legally required to say one sentence. Everything else can be skipped.
Use call and response ("…repeat after me") rather than trying to memorise your lines.
Engage a celebrant you trust and rely on them to guide you through the service.
Don't strive for perfection (which is boring) but for a genuine, authentic human experience.
Practice your vows beforehand.
Arrange a rehearsal so you have an idea of when and where everything will happen during the ceremony.
Be yourself — you don't have to be the life of the party if that isn't you. It is OK to leave the entertainment and jokes to everyone else.
Don't sweat the small stuff. No-one will care if you forget which finger to put the ring on.
Don't drink or take pills to manage your anxiety. Remember that if you're drunk or out of it, your celebrant won't be able to marry you.
Stay the moment — use your senses to stay grounded in the present. What can you see, hear, smell, touch and taste that is special and beautiful on this amazing day.
Focus on your partner and try to make their experience as memorable as possible. Imagine your hearts and souls merging together and know you no longer have to handle anything by yourself again.
Have fun. A wedding is over quickly so make the most of every single moment. Love and laughter go hand-in-hand so enjoy yourself.
Your wedding ceremony should be a lovely, warm and sacred experience which will be a fond memory for the rest of your life. You cannot mess it up if you put your trust in your celebrant, your partner and in yourself and use these tips to help calm your nerves.